Do you have a blocked drain or broken or damaged pipes in your plumbing system?
No one enjoys suffering from blocked or broken drains. Your plumbing issues may be from your kitchen sink, bathroom drain pipes, storm water drains, sewer pipes or even your hot water system.
Regardless of location, it can develop a nasty stench if left alone and other issues that can affect your entire drainage system.
But, instead of costly excavation and repairs, our Sydney plumbers have another solution for you - a CCTV drain survey. With a CCTV drain inspection, you can quickly diagnose the cause of the blockage or smell to get to the root of the problem and clear blocked drains.
So, if your drainage system continues to clog or give off bad odours, our Sydney plumbers can provide hassle-free, affordable solutions. And the best part, our blocked drain experts in Sydney are available 24/7!
Call us on 1300 349 327 today to book CCTV drain inspections in Sydney!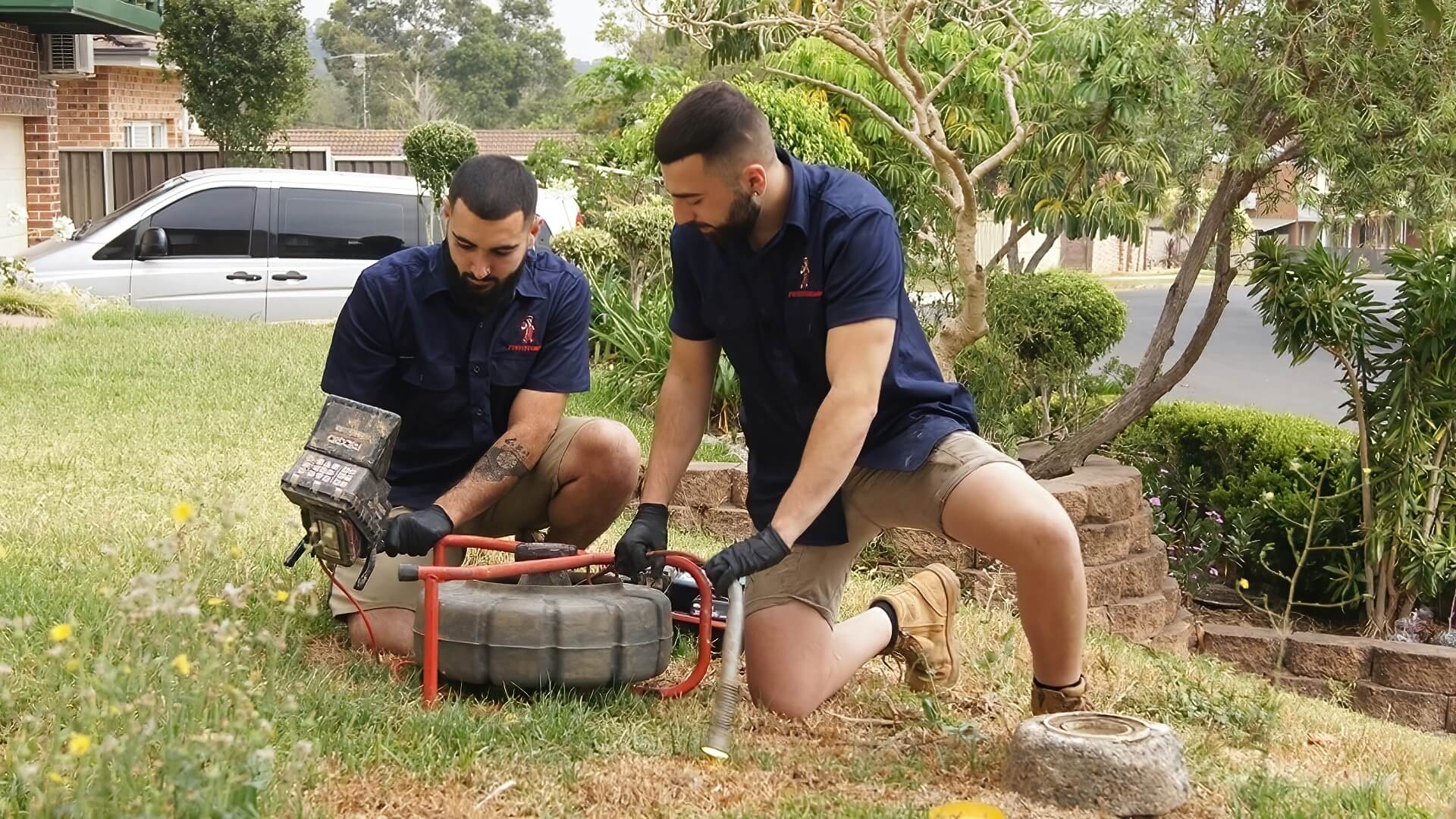 What Is A CCTV Drains Camera?
A CCTV (closed circuit television) drain inspection uses flexible head cameras to identify the cause of various plumbing issues.
At Fixed Fast Plumbing, our trusted local plumbers will use equipment such as a CCTV drains camera aside from visual inspection of your damaged pipes. CCTV drain inspection utilises the latest technology of high-definition cameras. We use them to get inside your pipes and detect any damage or blockages that have occurred there.
These CCTV inspections use waterproof cameras get where no man can go to discover otherwise hidden problems in your drains. While we can't get into your gutters to see the issue, CCTV inspections can.
When Do You Need A Drain Inspection?
It is good to have your drain regularly checked to avoid serious plumbing issues, so we highly recommend having a CCTV drain inspection during annual maintenance. However, if you are experiencing any of these issues, a drain inspection may be the most effective way to pinpoint the problem:
Locating recurring blockages
Annual plumbing inspections
Overflowing stormwater drains
Burst or cracked pipes
To prepare for pipe relining
Strange noises or smells from the drain pipe
How We Use A CCTV Drains Camera
For CCTV inspections, one of our highly trained technicians connects the camera to the end of a cable. It is then slid down your drainage system to inspect the inside of your drain.
The images coming from the camera show up live on our monitor so that we can examine your drain in real time.
CCTV inspections help us determine precisely what the issue is in your drain or sewer pipe. Otherwise, we can conclude the problem based on the symptoms, such as the smell of an overflowing drain. While our plumbers are highly experienced, it can be time-consuming.
There is no more guesswork when you use a CCTV drains camera.
With drain camera inspection, the flexible head cameras relay any breakages in your pipes that you otherwise wouldn't know about. Or, perhaps some tree roots or grease build-ups are clogging up the pipes. A CCTV camera inspection will be able to spot that too.

Benefits of Using A CCTV Drains Camera
While it's true that we can clear your blocked drain problem without using drain cameras, there are a few reasons why you would want to use CCTV drain plumbing services in your plumbing inspection, sewer inspections and drain blockage anyway.
Save Time
Regardless of our fantastic plumbers' knowledge, diagnosing an issue you can't see can be challenging. Our technicians know what to look for, but sometimes a surprise lurks in your drains.
If there are multiple issues in your system, there's no way of knowing this. The last thing we want is to think it's fixed, and then the problem continues for you.
Using a CCTV drain camera inspection, we can swiftly locate the problem or problems in your drain. There will be no fixing one problem, only to realise that you have more the next day.
By seeing the inside of your drain through CCTV camera inspection, we can do the job right the first time.
Save Money
Because using a CCTV drains camera streamlines the diagnosis process, you will save money. Without the CCTV pipe inspection, it can take a long time to figure out the cause of the issue. With a non invasive drain inspections you can avoid excavation costs and unnecessary digging!
You also may have more than one issue, which there's no way of knowing. All this will cost you more. We don't believe in hidden costs and want to do the job thoroughly the first time. This way, hopefully, you won't need us again!
Detect Unknown Issues
Sometimes, the cause of a problem is unclear.
Perhaps you could swear it's not a grease build-up in your kitchen sink because you never empty anything greasy down there. However, the homeowners before you could have been putting who-knows-what down that sink. Or possibly the issue is that a tree root has dug in and broken your pipes.
It could even be that your friend's child put a small toy down the sink last time they were over!
These kinds of problems can be extra hard to diagnose without a pipe camera.
They can go undetected for a long time as you try to solve the issue with the drain cleaner. Using a CCTV drain camera, we can ensure a correct diagnosis for any plumbing issues, plus ones you didn't even know about. The sooner you fix them with high-tech inspection equipment, the less damage they can do to your home.
What Happens Next?
Why choose our plumbing service for your drain camera inspection? We are your one-stop shop for all things plumbing!
After our drain cameras CCTV and further inspection, our highly experienced team will produce cost-effective solutions for your drainage systems.
If you have a damaged pipe, we can suggest the best ways to replace broken pipes, including a no-dig method known as pipe relining.
For blocked drains, we often use a drain snake or high pressure water blast to free your drainage system.
You can be confident our team have all the equipment needed and will do an excellent job fixing your plumbing issues.
Call Us Today To Book Your Inspection Today!
If you are having trouble with your drain and want to clear your clogged drains but aren't sure how to do it professionally, then it's best to call in expert drain plumbers. With over a decade in the plumbing industry, our licensed plumbers at Fixed Fast Plumbing are experienced in using CCTV drains cameras to solve even the most complex problems.
Rain or shine, we're here to help you with our specialist knowledge. Give us a call, and our friendly staff will be there to diagnose your drainage problems. Because we provide our service using CCTV drains cameras in Sydney, we won't take long to get to you in a plumbing emergency.